I have never been a "pink" girl.  (Let me be clear, this is no way refers to P!nk, the artist.  I adore her, to the poi
nt of being stalker-ish, but I'll save that for a different post.)   It's not that there is anything wrong with the color pink, it's just not one that I have ever been drawn to in my clothes or surroundings.  From a young age, in the 70's when I was born, blue was for boys and pink was for girls.  It was an identifier.  Thankfully, the world is changing and you can wear or associate with any color you want.  I don't ever remember my mom dressing me in lots of pink and as I got older and cared more about what I wore, I have chosen brighter colors or black. I mean come on, if you do a survey of your girlfriends, I bet a majority of their closet is black clothes.  I know mine is, but I digress. Yes, my clothes are color organized; it makes me happy and keeps my anxiety at bay.  I received my 1st diagnosis almost 5 years ago and my closet still looks like this.  Very little pink.  I have a few things with pink ribbons on them and my favorite is a "I Fight Like a Girl" pink hoodie, which my mom bought me.  She knows how much I hate shopping so every time I see her, she just has new clothes for me.
I did have a pink "trauma."  For senior prom I chose a pink and white dress.  Now I look back and I don't know what the hell I was thinking, but I adored this dress. I felt like Cinderella going to the ball. Until we got to prom and a sophomore had on the same dress.  How dare she???  This was my prom, and she was only DATING a senior.  I WAS a senior, dammit!  (Bonus points to my best friends if they remember her name.  I can picture her (in MY dress!) and I know her last name, but seriously, her first name, no idea.) That may have cured my desire to ever wear a pink dress again.  Looking back on it now, it's funny how upset I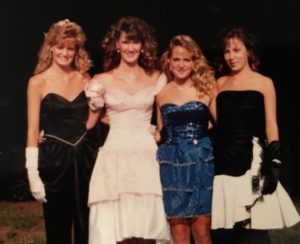 was at the time.  Boy, was life going to slap me in the face later with harsh realities of more than someone wearing the same pink dress.  But really, don't I look like a Princess??  The 3 amazing women with me were my rocks all through junior high and high school.  CDMS!  I am so very lucky to have lifelong friends as a part of my support system.
Though I don't seek out pink the rest of the year, come October, nothing with a pink ribbon is safe from me.  My grandmother died from breast cancer in 2008, but she had battled it for years.  If I could buy pink ribbon items and any amount of money from those tchotchkes could help fund research and save lives, I was in.  I have a pink ribbon and leather heart keychain and I will use it for the rest of my life; I also just found a pink ribbon carabiner – score!  But to adopt pink as my signature color?  Nope, not for me.  As far back as I can remember, either purple or green have been my favorite colors and how I decorated my room growing up and stocked my closet. For real, when I was a teenager, my room was seafoam green and peach.  It was the 80's and an awesome tropical print.  Later, I moved on to white and forest green stripes and then to all dark purple.  Purple is for royalty and I am a Leo after all. 🙂  Now, our bedroom is done in shades of grey.  Still no pink to be seen.
Even after I went through breast cancer once, I still did not adopt pink.  Pink ribbons sure, but that's all.  I had moved on and my life went back to "normal." Now, that I have been through this twice, with the current fight being so much harder and life changing, I am ready to be all about pink.  Do I think that liking pink now is going to keep cancer away or change my life?  No, but it sure can't hurt. I now have the wall of inspiration/a.k.a. the cancer wall in my bathroom which is covered in pink and the pink in my closet will expand.  I drink out of pink cups, have pink sparkly notebooks and may even dye part of my hair pink soon.  I want to share my journey and the pink ribbon is associated with breast cancer, so now it is associated with me.  Think Pink!