A big part of my "get back to normal plan" and finishing my treatment is getting my tattoos.   I am going to get 3-D nipple tattoos and also figurative tattoos to cover my scars.  A couple of weeks ago, we met with Mary Jane Haake at Dermigraphics.  She is well known in Portland and around the country for medical tattooing and has been doing it since the 70's.  I was so excited to meet her for the consult and to get started.  I had been counting the days. While, I am quite used to the way "the girls" look now, with a few scars and not much else, I need to get back some sense of the way that I used to be before the stupid f'in cancer showed up again.  The husband does not care either way; this is all for me.
I had no idea what to expect going into the appointment, but Mary Jane is awesome!  Very open, outgoing and says exactly what is on her mind, whether it is appropriate or not.  Nate and I looked at each other often in the consult and just laughed and we still will bring up phrases that she said in our conversation.  Most are not fit to print. 🙂
I told her my story and how I was recommended to her by my nurse navigator and my plastic surgeon as well as other survivors in my support group.  She only takes clients by referral; she does not run your regular tattoo parlor.  We looked through binders of tattooed nipples and beautiful images which she has done in the past, many for those who really had to cover up some large scars or misshapen breasts.  After looking at the before and after photos, I was feeling good about my new breasts.  While they may not feel like they used too, under a shirt or even a tank top, they look pretty damn good and I have good cleavage, etc.  She also explained the process and why I would need 3 – 4 sessions to get the nipples complete and for the ink to settle in with the scars and to design, outline and fill in the rest of what I want. I do currently have one tattoo on my hip so I am not tattoo virgin; one of my bestest friends, Jenny B., got it for me for my 25th birthday.  Sunset Strip Tattoo, because you know, only the best for us!  It is a seashell because my family and close friends have always called me "Shell" and I used to have a bit of an obsession with seashells.  I mean, they were everywhere, even on my bedroom lamps, but that is a story for another day! I digress.  She said that 99% of the breast cancer patients she sees are tattoo free, so I am a rare exception.  I am not too nervous about the pain.  I am pretty numb after my surgeries, but I still wish I could take a Xanax before I go in!
Finally, she and I went into the room where the magic happens, and I had to show her to goods. She agreed with me that my surgeon had done a good job and that I was very lucky. Then she gave me the news that I did not want to hear: I was not anywhere near ready to get inked. 🙁 I may or may not have teared up a bit.  On one side, my scar is still pretty red;  on the other side, they are light pink or close to white. She wants them all to be white.  After my mastectomy, Nate had bought me Mederma to rub on the incisions, one for day and one for night.  I did it for a while and then got lazy and stopped using it.  I thought "Hey, I am going to cover up everything with tattoos, it does not matter what it looks like."  Well, apparently, it does.  So, my first appointment will be May 4 instead of February 15.  You can bet that between now and then, I will be slathering on the cream every day and night!   I will have 4 appointments in the books and will finish up in October.  If I am out in the sun during the process, I will have to cover up the tattoo on my back and anything else exposed to prevent any fading, but it's not like I live in the sun! I damaged my skin enough as a teen laying out on my friend Carolee's roof (so we would be closer to the sun) with baby oil.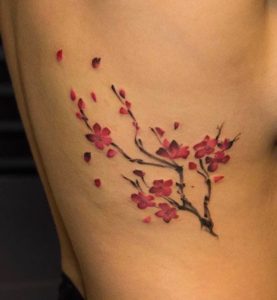 I want to have cherry blossoms covering the scars. I like the very delicate images, like this with more pink than red and with smaller blossoms and branches.  Many think they represent death after a short life, but I choose to see the beauty in them and the constant cycle of life death and re-birth.  I am also debating adding an infinity symbol with the words love and hope blended into it.  I asked her about putting that over
my back scar, but she said that would not last well on my back and could possibly stretch and become uneven because the skin on your back moves so much with your twists and turns of everyday movement.  So I may put it on the inside of my wrist. Now I have a few more months to work on my Pinterest Tattoo Board, so I guess that is a good thing!