I have been very anxious to start my tattooing.  For the past year and 4 months, I look every day at my new "breasts."  One looks somewhat normal, other than it has a long red scar across it and the other is a bit more odd, due to capsular contracture (breast augmentation complication that develops when internal scar tissue forms a tight or constricting capsule around a breast implant, contracting it until it becomes misshapen and hard) with a football shaped scar which has healed well.  But there are no nipples to be seen, anywhere.   They don't even feel like boobs to me, I have very little feeling in them, other than pressure, and I have no connection with them, other than they are on my body.
I chose to have reconstruction done after my mastectomy because I thought having breasts again would make me feel more whole.  Also, I am not a small woman and my breasts before were decent size, though age and child bearing had taken a toll.  I thought I would look weird with a size 12/14 body and a flat chest; that would definitely not be what society expects to see in a woman, nor what I wanted to see.  If I was going to survive after breast cancer, I wanted to be as close to "normal" after all of my treatment was done and reconstruction seemed like the best way.
When I was going over the options with the surgeons and they said that for many reasons, it was not possible to do a nipple sparing mastectomy for me, but they can give me new ones in the process, I was more worried about beating cancer for the second time, not so much about the nipples.  "Take everything, all the breast tissue, the tumor, the nipples, just make me healthy.  I have so much to live for."
Fast forward to 6 months post mastectomy, I had had my expanders replaced with the actual implants and I had round-ish fake things on my chest which were just white skin and scars.  I was as "used" to them as I could be, but I wanted to close out the chapter.  I had originally thought I was going to have a small nipple reconstructed by my plastic surgeon, but then I was at a Young Survivors meeting and everyone shows off their new breasts.  I saw tattooed nipples for the first time, UP CLOSE!  I was literally inches away from another survivor's chest, staring at how amazing they looked.  With the shading and colors, the tattoo artists work magic and they look SO REAL.  If you have never been around a group of women who have survived breast cancer and gone through reconstruction, it can be a shocking experience.  We tend to pull up our shirts and show off the new goods at the smallest provocation.  The best reason is to show a woman who has been newly diagnosed and wants to see what her future may hold.
This was last summer and I had gotten used to wearing just tank tops without a bra since the new breasts had no sag, and I enjoyed it.  That is definitely one of the top highlights, the lack of a bra most of the time.  I did more research, and I made the decision to get my nipples and areolas tattooed without having the plastic surgeon create a nub.  I had heard through the grapevine that there was an amazing tattoo artist to see in Portland (see prior post), she specializes in medical tattooing and made appointments by referral only. I had my doctor make the referral and I set up my first consult in late January.  Anyway, I was devastated at that first session when she told me I was months away from starting because my scars were still so vivid.  We set future appointments with the first one being in May.   A few days before that one, I sent her a photo and was told again that my scars were still not ready.   I cried.
Then, last week, I was pretty bummed because to me the scars, especially the one on the right side, were still vey pink.  I sent in the photo, but she said, "come on in, let's get started and maybe the blood flow from the tattoo will kick in and help the healing process."  WOOHOO!!!
I was actually very nervous, even though I have a small tattoo (thanks JB!), I remember the process stinging and bringing tears to my eyes.  I doubted this would be the same due to my lack of nerves and feeling in the area now, but I was anxious.  In the office, we looked at photos and sketches of cherry blossoms, which is what I want in addition to the nipples to cover my scars.  The ones she was showing me were way to dramatic and dense.  Mine are going to look something like this: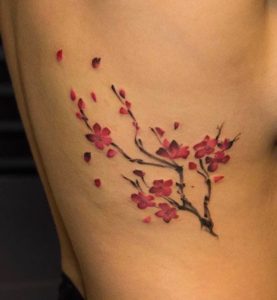 Then we went into the procedure room and got down to business.  Meaning, I put on a gown and she got out her red sharpie and started to measure me.   There is a spot on the neck which is the top of a triangle and the nipples are the other 2 ends and all of the distances should be equal.  Hmmm, who knew?  The she drew on me in red Sharpie and we looked at the red targets in the mirror together and judged if they were in the right place.  It was hard for me to tell, but she is the expert so I just said "you decide, and we'll get down to it."  Or rather, I sat down before I passed out from nerves. I even had to take off my shoes because my feet were super clammy and I thought I was going to have consecutive hot flashes. I also started to cry a little bit; she calmed me and said it was very normal as something like this brings me back to the whole cancer experience.
She gave me a piece of petrified log to hold onto so I would have something to do with my hands and then she got started.  I kept my eyes closed or stared at the ceiling as she rocked out to jazz music and worked her magic.  It only hurt in one small area thankfully, the rest was just pressure.  She was done pretty quickly and I looked down and was in shock.  I had color, areolas and nipples with shading and what looked like texture!  Then I started to cry again from amazement and happiness.  My breasts were no longer just mounds of skin; they looked "normal" again.  I could not contain my joy and she turned to look at me and said, "I am the nipple whisperer."   She truly is amazing.  I had to wear bandages and apply the cream twice a day for 5 days, but now, they have quickly become the norm for me, and I am not shocked when I look in the mirror anymore.
I am one step closer to closing the door on the stupid F'in cancer and not looking back.